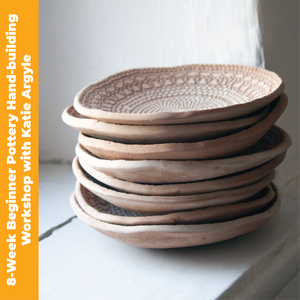 Class Duration: 8 Consecutive Weeks x 3 Hours
Date: Thursdays, October 5, 12, 19, 26, November 2, 9, 16, 23, 2023
Time: 6 to 9 pm
Cost: $350+ HST
Instructors: Katie Argyle
Description:

Get your hands messy! Learn basic hand-building techniques such as pinching, coiling, slab rolling, sculpting, carving, and attaching in this beginner's class.

Use the skills learned in this course to create cups and mugs, bowls, and plates that are fully functional. Once glazed, which you will also learn in this class, your pieces are microwave, dishwasher, and ovenproof.

If your interests lay in other areas such as jewelry and sculpture, these techniques can be used for projects exploring those areas as well.

Two specialty decorative surface techniques will be introduced as well: mishima and sgraffito, along with instruction in glazing techniques.

All clay used in this class is non-toxic and food-safe. Your creations will be ready for pick up approximately a week after the last class.

Participants will receive 10KG of clay and all the tools are provided.
Instructor: Katie Argyle
Katie works across the mediums of ceramics, printmaking, and painting, exploring the unique qualities of each one. She has been a member of the Hill Potters' Group for eight years, and before moving to York Region she was the ceramic technician at the Ottawa School of Art.