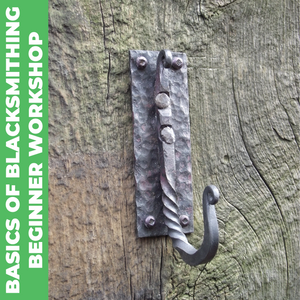 Date: December 7, 2023
Time:  10 am to 2 pm
Course Duration:  1 day class 
Cost: $165 + HST
Instructor: Mark Reeves
Description:
Discover the Art of Blacksmithing in Just 4 Hours!
Are you intrigued by the beauty of forged metalwork? Eager to dive into the world of blacksmithing and create your own metal treasures? Join our Blacksmithing Basics Workshop for an immersive journey into the ancient craft of shaping metal.
What You'll Learn:
In this 4-hour class, you'll explore fundamental blacksmithing techniques that lay the groundwork for various forging projects. Perfect for beginners and those with some experience, our workshop equips you with essential skills to kindle your passion for metalwork.
Hands-On Skills:
Tapering: Master the art of crafting tapered metal ends, a versatile skill for making hooks, knife blades, and more.

Scrolling: Create intricate scrolls that can enhance gates, railings, and decorative pieces.

Twisting: Unleash your creativity by learning twisting techniques to add unique textures and patterns to your creations.

Slitting and Punching: Discover how to cut and punch holes in metal, essential for crafting keyholes, decorative designs, and more.
Mastering the Tools:
We provide all the necessary tools and materials, so no need to bring your own. Receive expert guidance on tool usage and hammering techniques, leaving you with the confidence to continue your blacksmithing journey.
Unlock Your Potential:
This workshop isn't just a one-time experience; it's your gateway to a future in blacksmithing. It's a prerequisite for exploring our intermediate and expert level classes. We'll help you build the strong foundation needed for advanced projects and techniques.
Join the Journey:
Don't miss this chance to immerse yourself in the captivating world of blacksmithing. Our Blacksmithing Basics Workshop offers an unforgettable experience where you'll connect with the ancient artistry of metalwork, create your masterpiece, and pave the way for your journey into the heart of the forge.
Ready to shape your destiny in steel? Reserve your spot now and become part of the enduring tradition of blacksmithing.
Please note: Workshop participants must be 16 years of age or older. Those under 18 years of age must have parental consent / a signed waiver.
Location:
NewMakeIt
621 Timothy Street, 
Newmarket, Ontario
L3Y 1R3
Our cancelation policy:
https://www.newmakeit.com/pages/class-policies-cancellations